Customer reviews
Passofaro Eugene
September 26, 2017 20:18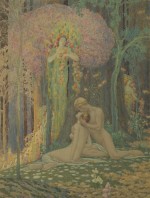 Dear Eugene, Your facilitation has helped set me free. I love the new ideas flowing over me like a cascade of rain. I have seen so many videos, paintings, architecture,sculptures; listened to lectures; read appropriate literature and history; have contacted and been contacted by members... it's been a whirlwind of excitement and discovery. Once it's been unleashed I don't think it will ever end.
Passofaro Eugene
September 26, 2017 19:43
Dear Eugene, The course you choose for me was perfect! I can't believe all I learned from The Realm of the Gods and Poets of the Earth. I want to enroll in another course today!
Hot deals for January 17, 2018